Kamlawati Djasai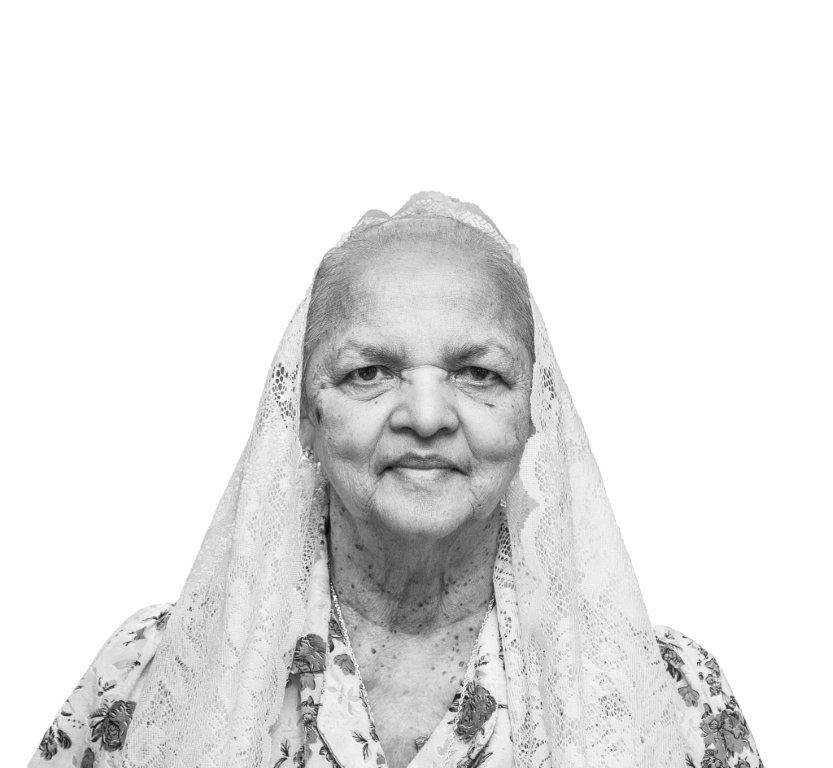 Ik heb afgesproken met mevrouw Kamlawati Djasai, vlak voor negenenzeventigste verjaardag. Voor mij een fascinerende vrouw die geboren en getogen in Leiding 8 in Suriname, zich kranig heeft aangepast aan de Nederlandse samenleving. Ze oogt broos als ik de kamer binnenstap. Ze is net herstellende van een val in haar woonkamer. Maar haar stem is welluidend. In de woonkamer staat een vitrine kast die deed mij denken aan Suriname. Er staan foto's van haar overleden man, van het huwelijk van haar zoon en van haar kleindochter. Het staat ook vol met "reclame" glazen.
Kunt u mij iets vertellen over uw ouders?
Mijn vader is als kind meegekomen met zijn moeder, mijn náni, uit India. Zeer waarschijnlijk is náni getrouwd met een andere immigrant, want ik heb ook mámá's en moussi's. Mijn moeder is geboren in Suriname. Mijn vader was een slanke man en streng. Mijn moeder was een korte vrouw en een beetje mollig. Mijn ouders waren landbouwers in Leiding 8. Hij verbouwde rijst en groenten. Ook hadden wij koeien.
Hoeveel kinderen hadden uw ouders?
Nou dat is een tragisch verhaal. Mijn moeder is in totaal 21 keer in verwachting geweest. Ik was het eerste kind na tal van miskramen. Toen mijn moeder van mij zou bevallen, is mijn moeder tijdelijk verhuisd naar Zorg en Hoop, een wijk in Paramaribo. Bij een phuwá ( de zus van mijn vader) van mij. De gedachte was dat wellicht onze grond in Leiding 8, niet de meest gezegende plek was om te bevallen gezien de eerdere miskramen van mijn moeder. Ik werd in goede gezondheid geboren. Na mij zijn er nog 3 meisjes geboren en een zoon. Tussendoor heeft mijn moeder nog miskramen gehad. Het moet een nare ervaring zijn geweest, maar als kind heb ik niets gemerkt.
Hoe zag uw jeugd eruit?
Dat was erg fijn. Omdat ik de eerste kind was na de vele miskramen ben ik zeer liefdevol opgebracht door mijn ouders. Ik hoefde niet op het land te werken of koeien melken. Mijn jongere zusters en broer moesten wel meehelpen. Ik deed de huishouding. Dat wil zeggen mijn moeder helpen met koken. Ik ben geloof ik tot de tweede klas van de Lagere School onderwijs genoten.
Kunt u iets vertellen over uw huwelijk?
Mijn huwelijk was een gearrangeerd huwelijk. Ik was ongeveer vijftien jaar toen mijn phuphá met het voorstel kwam. Hij woonde op de Nieuwweergevondenweg en hij vond zijn buurjongen geschikt voor mij. Hij heeft dat voorstel gedaan aan mijn vader en die ging akkoord. Uiteindelijk is mijn huwelijk een jaar uitgesteld vanwege het plots overlijden van mijn eenjarige jongere broer. Ik trad in het huwelijk in 1956 toen ik nog zestien jaar oud was. Drie weken later ben ik zeventienjaar geworden.
Hoe was het bij uw schoonfamilie?
Ik moest heel erg wennen. Ik kwam in heel grote familie terecht met heel veel kleine kinderen. De zorg van de kinderen werd aan mij toebedeeld en het ging van baden, kleden, voeden en alles wat er bij komt. Een zware periode voor een jong meisje. Maar ik heb het gedaan. Naast de zorg voor de kinderen moest ik drie keer per dag koken voor bijna tien personen. Dag in dag uit. Ik ging ook zelf groente telen zoals peper, sim, bhátá ( aubergine) en tomaten.
Die gewoonte heeft zij ook meegenomen naar Nederland. Want in haar woning heeft mevrouw Kamla een kamer ingericht als haar moestuin. Ze heeft een peper en tomaten plant. Ook plant ze soms selderij ( supuwiri). Ze kan het niet laten.
Mevrouw Kamlawati is een zeer religieuze vrouw. Reeds in haar jeugd jaren bezocht ze alle religieuze bijeenkomsten in de buurt. Dat deed ze vaak met de hele familie. In Suriname hield ze bij alle hoogtij dagen een pujá ( kerkdienst) thuis. Die gewoonte heft ze ook in Nederland behouden. Elke zondag gaat ze trouw naar de Dew Mandir in Den Haag. Ze beschikt ook over een grote kennis van de religie, gewoontes en tradities binnen de de hindoestaanse gemeenschap. Thuis heft ze ook een eigen mandir waar ze elke dag haar pujá doet. Het geeft haar rust en vertrouwen.
Waarom bent u naar Nederland gekomen?
Mijn man was een vooraanstaand lid van de VHP en hield van zijn land. Hij zou niet willen vertrekken. In onze omgeving vertrok de ene familie na de andere. Mijn man had een gouden ketting en ring van zijn moeder geërfd. Op een dag is hij door creolen nabij Latourproject overvallen. Volgens mij heeft dat voorval een grote rol gespeeld in het vertrek uit Suriname.
U hebt bijna de halve wereld gereisd. Waar kwam die belangstelling vandaan?
Ik had nooit durven dromen dat ik landen als Australië of Nieuw Zeeland zou bezoeken. Ik had nooit van die landen gehoord. In Suriname was mijn wereld niet groter dan het huis van mijn schoonouders of en toe een bezoek aan mijn ouders. Ik wist niet beter. In Nederland lukte het ons om te sparen. Het was meer een idee van mijn man. Hij zei op een dag dat wij naar India gaan. Ik heb ingestemd, omdat ik dat altijd deed. Onze eerste reis naar India was een geweldige ervaring. We kwamen te midden van allerlei protesten tegen de regering van de regering van Indira Gandhi. Maar ik vond het geweldig. Ik heb inmiddels India twaalf keren bezocht. Ik vind reizen geweldig om te doen. Binnenkort ga ik naar Suriname, want ondanks het feit dat ik al zoveel landen hebt bezocht is Suriname toch thuis komen.